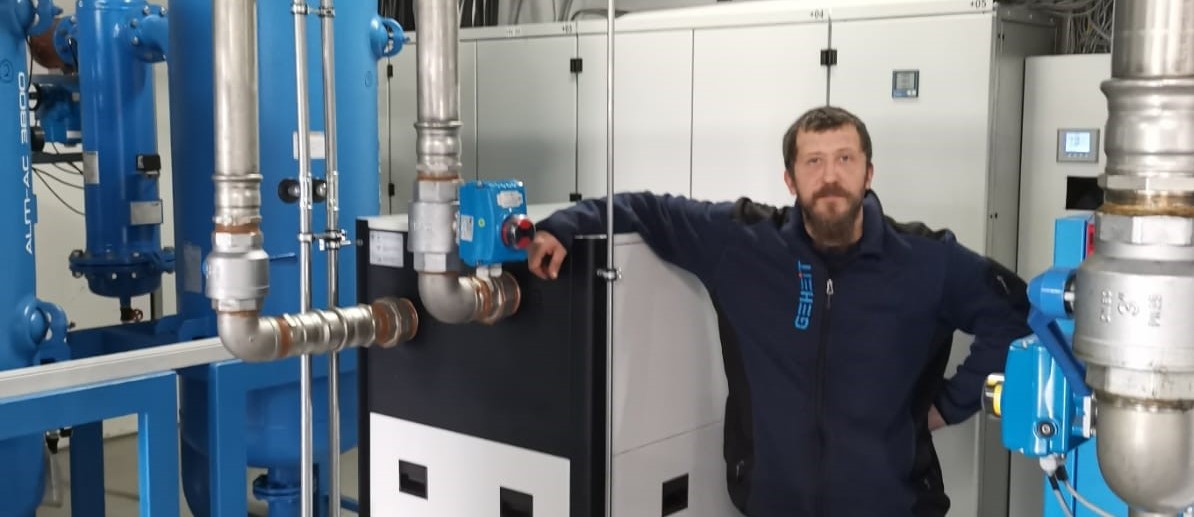 Installation and pre-commissioning
Geheit company provides installation services for pressurized air treatment and generation units, as well as for heat recovery, ventilation, air conditioning and refrigeration systems in small, medium and large industrial and commercial facilities.
 Equipment installation includes the following steps:
Equipment delivery.
Installation of main and auxiliary equipment.
Mounting of pipelines and fittings.
Mounting of instrumentation and control systems.
Installation of electrical equipment and wiring, cable routing.
 When installation works are finished, a preliminary acceptance inspection for compliance with the project is carried out.
Piping connection and piping are performed by means of Mapress connection system, electric arc welding is also possible.
Different types of materials for pipelines are used – copper, stainless steel, galvanized steel and carbon steel, pipe fittings from KSB, Belimo and other European manufacturers are provided.
Geheit specialists have all the necessary certificates and qualifications to carry out the relevant types of work.
Tools and accessories from the world's leading manufacturers such as Würth, Metabo, Rems, Geberit and others are used to provide the installation of the equipment.
The company uses construction machines (cranes) to perform major projects.
It is possible to install the equipment according to the projects of third parties, as well as to supervise the installation with the engagement of contracting organizations.
The commissioning works, carried out after installation of the equipment, are aimed at adjusting the mounted units, identifying deficiencies and inconsistencies with the project, checking the system for operation. At this stage Geheit specialists carry out final acceptance of the equipment and hand it over to operation.
Pre-commissioning activities include:
Analysis of project documentation.
Visual inspection of process unit.
Check of grounding elements of electricity-generating plant.
Voltage supply.
Conducting of functional tests.
Determination of technical characteristics compliance of the installed equipment with the requirements established by the project and technical documentation of equipment manufacturers.
Adjustment and regulation of individual equipment components.
Equipment test run implementation on operating environments.
GEHEIT representative in the Baltic States:
GEHEIT SIA,
Akaciju street 3B, Riga, LV-1029
Tel.: +371 263 93 008
Tel.: +371 221 15 996
E-mail: office.riga@geheit.de