Heat-exchange equipment
In compressed air production processes, heat exchangers are primarily used to cool the air after compression to release condensate, the second designation of heat exchangers is the implementation of heat recuperation processes.
One of the most efficient compressor cooling systems in terms of environmental friendliness and operating costs is a closed water circuit system: water circulates between the compressor and the cooler, which in turn is also cooled by water or ambient air. In the first case, the cooler is a heat exchanger, in the second case, it is a heat exchanger or an air-cooler.
Nowadays plate heat exchangers with water as a cooling agent are the best solution for the transfer of heat between media when working with non-aggressive media and under moderate operating conditions in terms of pressure and temperature. They provide such advantages as space saving, easy maintenance and cleaning.
Air coolers are less preferable. The heat transfer coefficient of air is lower than that of water, resulting in a larger heat transfer surface, which leads to an increasing construction. At the same time, in the absence of a water resource, this solution becomes the only appropriate option. Air-cooling units are widely used in many production facilities and are well located on the roofs of production buildings.
Geheit GmbH provides supply, installation and piping of heat-exchange equipment from the world's leading manufacturers Alfa Laval and SWEP. These are all types of plate heat exchangers – welded, brazed and disassembled, as well as air-cooling units.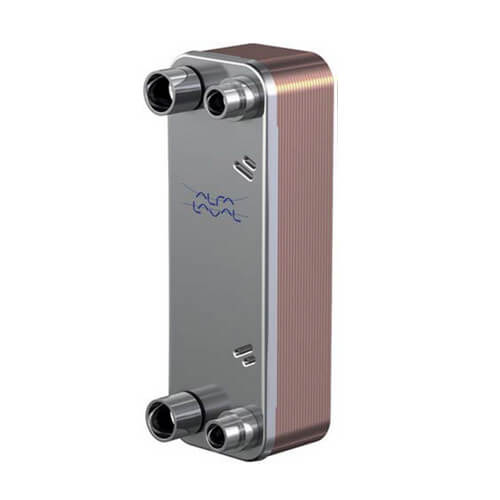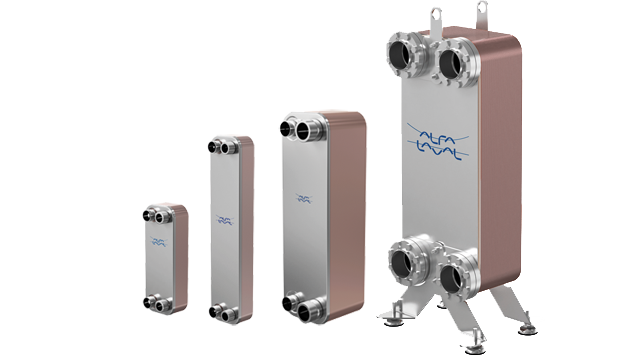 Brazed plate heat exchanger Alfa Laval CB10 / CBH10
The Alfa Laval CB range of brazed plate heat exchangers feature efficient heat transfer with an extremely small footprint, making them ideal for demanding installations where space is at a premium. The CB range is used in HVAC heating/cooling, refrigeration, process heating/cooling, oil cooling, solar heating and many other applications.
Benefits:
Easy to install.
Self-cleaning.
Low level of service and maintenance is required.
All units are pressure and leak tested.
Gasket free.
Design:
The brazing material seals and holds the plates together at the contact points ensuring optimal heat transfer efficiency and pressure resistance. Using advanced design technologies and extensive verification guarantees the highest performance and longest possible service life.
Technical Data:
Min. number of plates: 4.
Max. number of plates: 60.
Max. particle size, mm: 1.1.
Max. flowrate, m3/h: 4.1.
Materials: stainless steel, brass (solder).
More information can be found at https://www.alfalaval.ru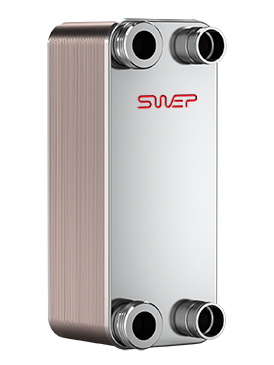 Brazed plate heat exchanger B10T from SWEP
The Brazed Plate Heat Exchanger (BPHE) is constructed as a plate package of corrugated channel plates with a filler material between each plate. During the vacuum brazing process, the filler material forms a brazed joint at every contact point between the plates, creating complex channels. The BPHE allows media at different temperatures to come into close proximity, separated only by channel plates that enable heat from one media to be transferred to the other with very high efficiency. The concept is similar to other plate and frame technology, but without the gaskets and frame parts.
The SWEP company produces heat exchangers, including custom-made ones, according to the stated characteristics and operating conditions!
Technical Data:
Maximum number of plates: 140.
Max flow, m3/h: 9.
Channel volume, dm3: 0.061.
Material: 316 stainless steelplates, stainless steel brazing.
More information can be found at https://www.swep.ru
Аппараты воздушного охлаждения: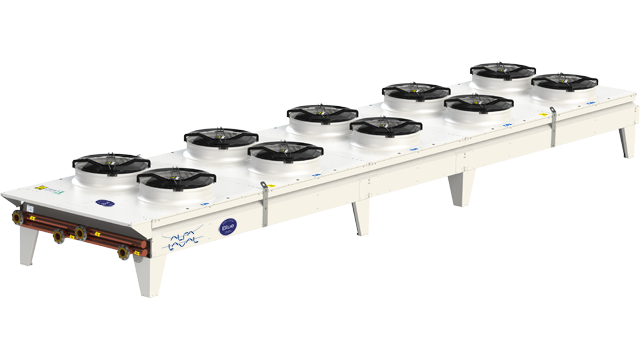 The Alfa Laval Blue series is a wide range of heavy-duty air cooled condensers for air conditioning and refrigeration applications. The coolers have fans with different noise levels and can be used in industrial, living or office areas. Alfa Laval Blue condensers are available for both horizontal and vertical air direction. Available both in single (M) or dual (D) fan row: separate connections in the dual fan row (D) models provide the opportunity for independent operation of both condenser coils. Standard air coolers are equipped with copper tubes or stainless steel tubes with aluminium fins.
Benefits:
Heavy duty design with high corrosion resistance.
Reduced refrigerant charge.
Available with easily cleanable industrial power fins.
Excellent sound characteristics, suitable for residential applications.
Reliable performance, Eurovent certified.
Easy installation & maintenance.
Energy efficient: low total cost of ownership.
Two-year product guarantee.
On request, the units can also be equipped with irrigation nozzles and vibration supports.
More information can be found at https://www.alfalaval.ru
All details are subject to change and clarification, details must be clarified!
GEHEIT representative in the Baltic States:
GEHEIT SIA,
Akaciju street 3B, Riga, LV-1029
Tel.: +371 263 93 008
Tel.: +371 221 15 996
E-mail: office.riga@geheit.de